New Land Rover Defender to be built in Slovakia, not the UK
Next model to be assembled at Nitra plant, after JLR ended production in Solihull in 2016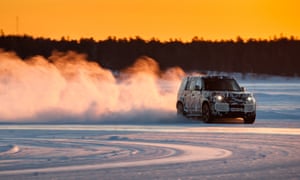 A camouflage-patterned prototype of the new Land Rover Defender model has been in testing
The new version of the Land Rover Defender will be built in Slovakia rather than the UK, its manufacturer has confirmed.
The last Defender came off the production line in Solihull in the West Midlands in 2016, after almost 70 years continuous production of the 4X4 vehicle and its forebears.
On Tuesday, Jaguar Land Rover (JLR) confirmed that the next model would be assembled at its plant in Nitra in Slovakia, which opened last October.
A camouflage-patterned prototype of the new model has been in testing. It is due to be unveiled this year, probably at the Frankfurt motor show.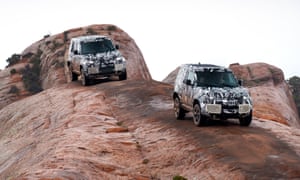 Although the move to Slovakia had been widely expected, it comes amid gloom over the prospects for British car manufacturing and follows the decisions to relocate production of the Discovery model last year.
After the boom of the first half this decade, British car manufacturing dropped 14% year-on-year in March. The industry body has warned that a no-deal Brexit could see it recede even further amid fears of a repeat of the "dark days of the mid-1980s".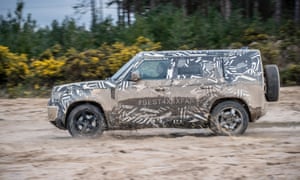 Mike Hawes, chief executive of the Society of Motor Manufacturers and Traders, said the new "limbo" around Britain's departure date was creating further havoc with investment. "Just a few years ago, industry was on track to produce 2 million cars by 2020 – a target now impossible with Britain's reputation as stable and attractive business environment undermined," he said.
JLR has cut jobs and suffered heavy losses in the face of backlash against diesel vehicles, slumping demand in China, and Brexit uncertainty. The company posted a quarterly loss of £3.4bn in February.
JLR emphasised that the new Defender had been designed and engineered in the UK, and would also use engines built in Wolverhampton "reinforcing both the company's British roots and the diversified, globalised nature of its manufacturing strategy". It said the 2020 model was now in its final phase of testing, which would include wildlife parks in Kenya, after trials in extreme temperatures in the desert and the Arctic.
The company said the decision to move the Defender abroad came amid plans for "significant investment" at the Solihull plant, for the next generation of Range Rover and Land Rover models.
There are still hopes that Ineos, the company owned by Britain's richest man, Jim Ratcliffe, could manufacture the Projekt Grenadier 4x4, its planned rival to the Defender, in Britain. However, Ineos announced last month that the engines would be supplied by BMW in Germany.
As 2020 begins…
… we're asking readers, like you, to make a new year contribution in support of the Guardian's open, independent journalism. This has been a turbulent decade across the world – protest, populism, mass migration and the escalating climate crisis. The Guardian has been in every corner of the globe, reporting with tenacity, rigour and authority on the most critical events of our lifetimes. At a time when factual information is both scarcer and more essential than ever, we believe that each of us deserves access to accurate reporting with integrity at its heart.
More people than ever before are reading and supporting our journalism, in more than 180 countries around the world. And this is only possible because we made a different choice: to keep our reporting open for all, regardless of where they live or what they can afford to pay.
We have upheld our editorial independence in the face of the disintegration of traditional media – with social platforms giving rise to misinformation, the seemingly unstoppable rise of big tech and independent voices being squashed by commercial ownership. The Guardian's independence means we can set our own agenda and voice our own opinions. Our journalism is free from commercial and political bias – never influenced by billionaire owners or shareholders. This makes us different. It means we can challenge the powerful without fear and give a voice to those less heard.
None of this would have been attainable without our readers' generosity – your financial support has meant we can keep investigating, disentangling and interrogating. It has protected our independence, which has never been so critical. We are so grateful.
As we enter a new decade, we need your support so we can keep delivering quality journalism that's open and independent. And that is here for the long term. Every reader contribution, however big or small, is so valuable. Support The Guardian from as little as $1 – and it only takes a minute. Thank you.
SOURCE:Paper.li